Half Irish By Susanne O'Leary and Pete Morin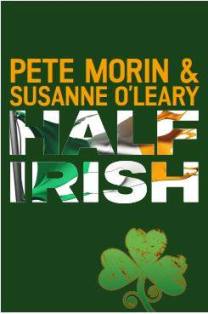 When an immigrant Irish roofer plummets to his death from a South Boston building, lawyer Paul Forte steps in to settle the man's presumably meager estate, as a favor to his friend, Dublin reporter Finola McGee. A routine probate matter, he thought, until he discovers the penthouse condo, the top-of-the-line Harley and credit card statements reflecting a fondness for Las Vegas.
In Ireland, Finola's human interest story about the tragedy prompts several Irish widows to inform her of similar accidents in the States. In each case, the laborers had been beneficiaries of CRAIC, an Irish "charity" run by ex-politician Finbarr Murphy; their lives had been insured for substantial amounts; and their widows did not receive what they were due.
When insidious political forces (and a little blackmail) impel her editor to silence her, Finola smells another big story. She is convinced CRAIC is another word for scam.
As Paul and Finola team up once again to plumb the depths of Irish treachery, secrets are divulged, privileges violated, punches thrown, loyalties shredded and bombs ignited; but it takes a meddling amateur to unmask the saboteur.
Available to buy now: